This page is dedicated to my grandmother, Virgie Dewberry. My dad's mom.
She was the most sweetest & wonderful person in the world to me. Her and my grandfather, Ernest, had eight sons. My dad, Jerry, and my uncles; Jimmy, Norman, Don, Barry, Ernest Jr. who was stillborn and a set of twin boys who were also stillborn. My uncle Jimmy died in 1984. He was the oldest living son at the time. When he died my dad became the oldest. Ernest Jr. would have been the oldest, followed by the twins. My grandma almost never talked about them. If I hadn't read thier names in her family bible one day and asked her about them I may have never known about them either.
Update:
On September 4, 2006,
My Uncle Norman passed away in his sleep
From a heart attack. He was the next oldest after my dad.
~WE LOVE YOU UNCLE NORMAN~
| | |
| --- | --- |
| This is my grandma. This was taken on my grandma's very first visit with her great great grandson, Tyler Aaron. There was 5 generations together during this visit. My grandmother was the 1st. generation and Tyler was the 5th. Im really glad she got to see Tyler before she died. | The picture above this is of my dad (rightside), my uncle Norman (leftside) and my uncle Barry (back). All of the pictures on this page were taken on the same day. During one of our visits with my grandma. |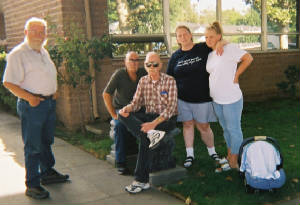 A quick family picture. Of course this isn't all of us. Just the ones who were there during that visit. From left to right it is my uncles Barry & Norman, my Dad, Me, Krisha and Ty baby..
WE LOVE YOU GRANDMA..